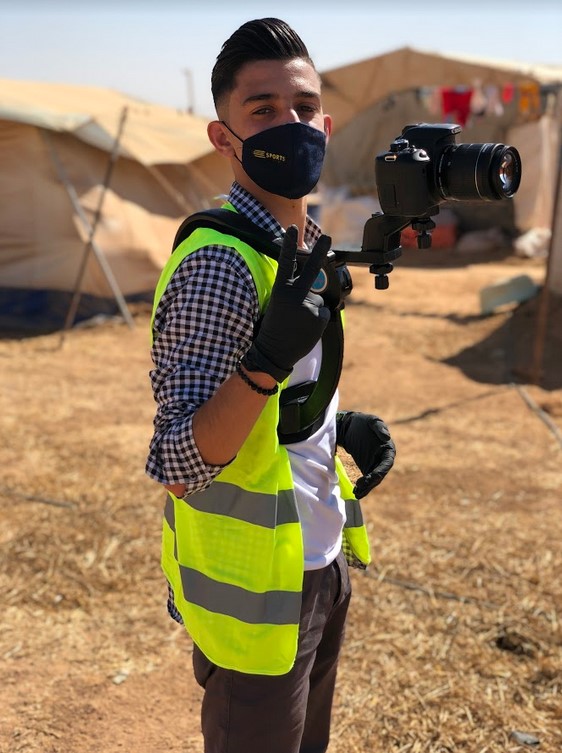 Mazen Al-Natour was born in Syria in the spring of 2001. In 2012 he moved to Jordan due to the war in Syria and is now a student at Zarqa University under EDU-SYRIA Program funded by EU, studying electrical engineering. An ambitious and loving young man who started his story with volunteer work since 2015. He implemented and participated in many charitable initiatives aimed at community service. Mazen has some talents such as acting and photography, and these things he exploited in volunteer work, as he has presented theatrical performances in various regions of the Kingdom of Jordan, he covers events and celebrations in the media, and he volunteers with several organizations and institutions such as the Solidarity Association, the Princess Basma Center for Youth and Makani Center.
In the recent period, he participated in more than one initiative, the most important of which was the initiative he set up with his Syrian youth friends in Khadija camp, which is a random camp in the northern desert for Syrian refugees, and the camp is located in an isolated area and is not provided with services. More than 150 families live in the camp, and the children of these families do not go to school or learn, because there are no nearby schools and no means of transportation. Mazen said, "Based on the belief that education is a right for everyone and it is necessary because they were deprived of this right, we decided to launch an initiative to provide them with a means of education and restore their right."
The idea of this initiative was to secure a classroom as well as teachers in the camp to teach the children.
He added "We started by launching the initiative and collecting donations from friends, knowing that this was not easy because the amount needed is very large and we do not have any organizations that support us except for our freind donors."
After completing the donations, Mazen and his partners in this initiative prepared a caravan of a large size 3 * 6, prepared class seats, secured the whole classroom supplies of tablets, pens, storage and sterilizers, and they bought stationery for the children and then went to the camp, which is located in the middle of the desert. After that, they performed some activities and games to delight the children, distributed stationery to them, and finally the students entered the classroom and started studying.
Mazen said, "This initiative had a great impact, as we found the smile of children mixed with grief, as they live in harsh living conditions due to the lack of basic life necessities, and we tried to send hope for a more beautiful tomorrow".
Mazen took many initiatives, such as visiting orphans, distributing masks, and maintaining physical distancing in the high school exams that were held in light of the Corona pandemic, he covered them in the media. Mazen concluded, "We are now preparing and collecting donations to establish an initiative aimed at providing a winter parcel that contains food parcels, some winter clothes and blankets for the needy families due to the onset of the winter season".