Amman, on December 15th, 2020, EDU-SYRIA team held virtually the first consortium management meeting for EDU-SYRIA III project. The meeting aims at discussing the project's progress and opens a discussion venue among the partners.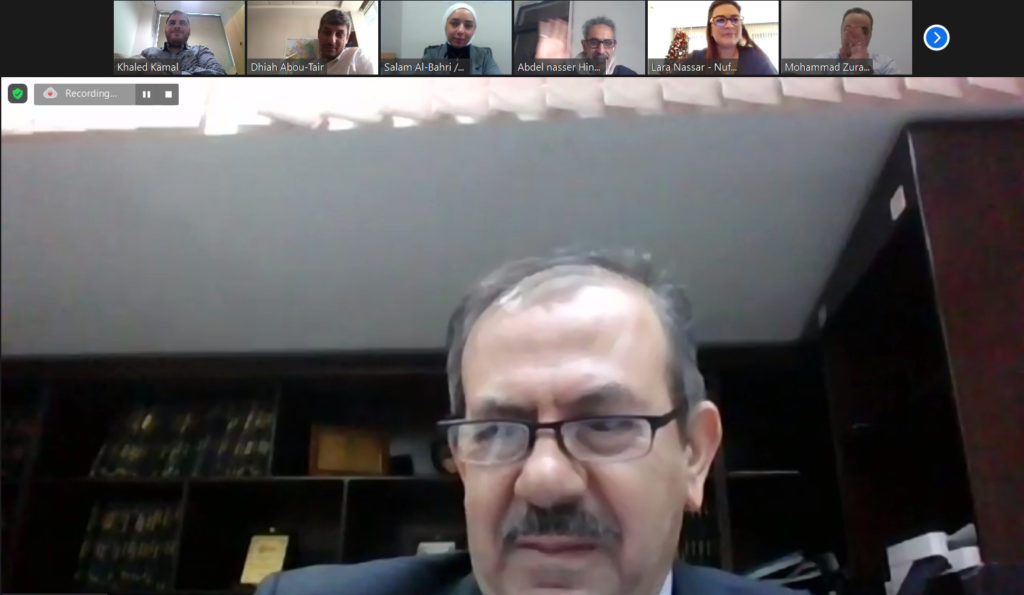 The EU higher education programme manager Dr. Dhiah Abou-Tair welcomed GJU president and director of EDU-SYRIA programme Prof. Manar Fayyad, Ms.Maria Rosa, the Attaché of the Regional Trust Fund in Response to the Syrian Crisis, the 'Madad Fund', EDU-SYRIA Management team and introduced the consortium partners. Prof. Fayyad opened the meeting by expressing her gratitude for this great opportunity thanking all partners for making it possible. Moreover, Dr. Abou-Tair presented the project components, and objectives and went through the meeting agenda.
Ms.Maria Rosa emphasized on Dr. Abou-Tair's points of view regarding the importance of EU Funds for assisting the Syrian students. She also emphasized the importance of directing part of the fund towards the south of Jordan due to the large number of Syrian refugees there who have limited resources and scholarships. Moreover, Dr. Abou-Tair introduced each partner, where each of them had the chance to discuss the project's actions progress, encountered challenges and discussed various ways to solve these challenges.
The meeting was attended by the project partners: Jordan University of Science and Technology (JUST), Yarmouk University (YU), Zarqa University (ZU), Luminus Technical University College (LTUC), Mutah University (MU), Queen Rania Teacher Academy (QRTA), German Academic Exchange Service (DAAD), and Dutch Organisation for Internationalisation in Education (NUFFIC).
During the meeting, EDU-SYRIA financial supervisor Ms. Sana Farraj reported the budget status of the program and went through the financial reporting process. Further, the project's visibility, annual reporting process and quality assurance were discussed among the partners.