Amman, Jordan. On Sunday 10 June 2018, The High Representative/Vice-President of the EU. Federica Mogherini, visited the German Jordanian University to attend the recognition of achievement ceremony of the second batch of EDU-SYRIA graduates. The HR/VP visit was accompanied by the EU Ambassador to Jordan Andrea Matteo Fontana, the German Ambassador Birgitta Siefker-Eberle, the representative of Ministry of Higher Education and the German Jordanian University president Prof. Manar Fayyad.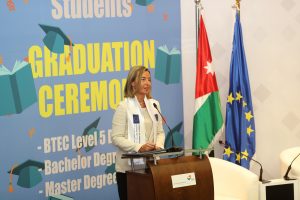 Today 145 Jordanian and Syrian students participated in the graduation ceremony of EDU-SYRIA. They represent different study levels on higher vocational, bachelor and master degree.
During the graduation ceremony Ms. Mogherini engaged in a discussion with five vulnerable Jordanian and Syrian students under the EDU-Syria project (see below for more information) and two Jordanian students who studied in Europe through the EU funded Erasmus+ exchange program. The panel discussion focused on their studies and their career aspirations in Jordan and abroad as well as regional political topics. The meeting of HR/VP Mogherini with the students is in line with the EU focus on Education and Youth in Jordan.