On Sunday, July 26, 2020, The President of the German Jordanian University (as consortium leader), Prof. Manar Fayyad, and the Chairman of Zarqa Corporation for Education and Investment Mr. Mahmoud  Abu Shaera signed the agreement of EDU-SYRIA/EDU-JORDAN scholarship programme, funded by the European Union through the regional trust fund in response to the Syrian crisis: the EU 'Madad' Fund to support 470 Syrian refugees.
This agreement will provide young Syrian refugees with the opportunity to pursue their Bachelor's degree in a variety of the programmes.
During the signing ceremony, Fayyad praised the distinguished partnership between the two parties and the importance of cooperation between the public and private sectors, noting that the program has been providing scholarships for Syrian refugees and Jordanian youth since its establishment in 2015.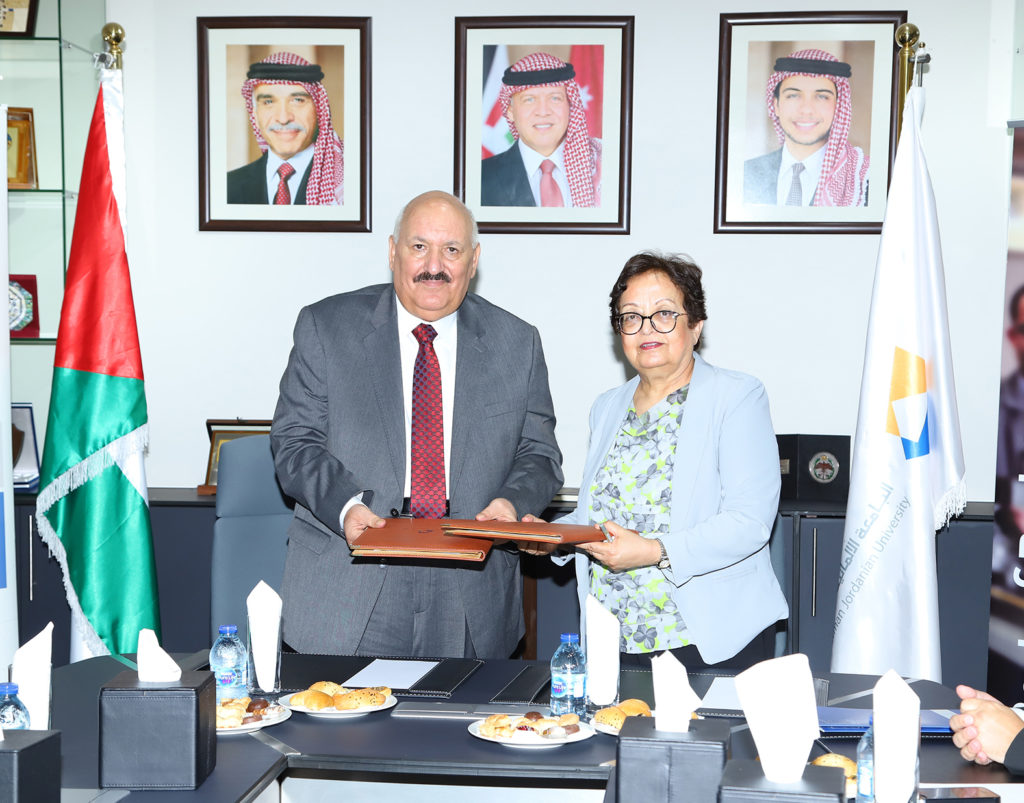 Fayyad appreciated the efforts of all partners and the project team to assure providing quality education for young people, helping them to improve their lives, and integrate them in society to be tools for production and building in their societies.
For his part, Vice Chairman of the Company, Mr. Osama Abu Shaera', stressed the importance of such agreements and the extent of their impact on students under EU supervision. He added that the University is keen to provide all educational and learning materials so that it reflects on their excellence and academic achievement, pointing that the agreement comes to support the higher education project for Syrian refugees and Jordanian youth.
EDU-SYRIA III project is a consortium of 9 local and international partners: The German Jordanian University (consortium leader), DAAD (German Academic Exchange Service), Nuffic (The Dutch Organisation for Internationalisation in Education), Queen Rania Teacher Academy, Jordan University of Science and Technology, Yarmouk University, Mutah University, Zarqa University and Luminus Technical University College. The project also cooperates with Jordanian aid funds: National Aid Fund, Tkiyet Um Ali, Al-Aman Fund, and Zakat Fund.