The Commissioner for Humanitarian Aid and Crisis Management in the European Union Christos Stylianides inaugurated the official launch of "My Story" Book at the Karama Human rights festival on Saturday, December 8th, 2018. His Excellency was accompanied by the EU Ambassador to Jordan Andrea Matteo Fontana and EDU-SYRIA director and the German Jordanian University (GJU) President Professor Dr. Manar Fayyad.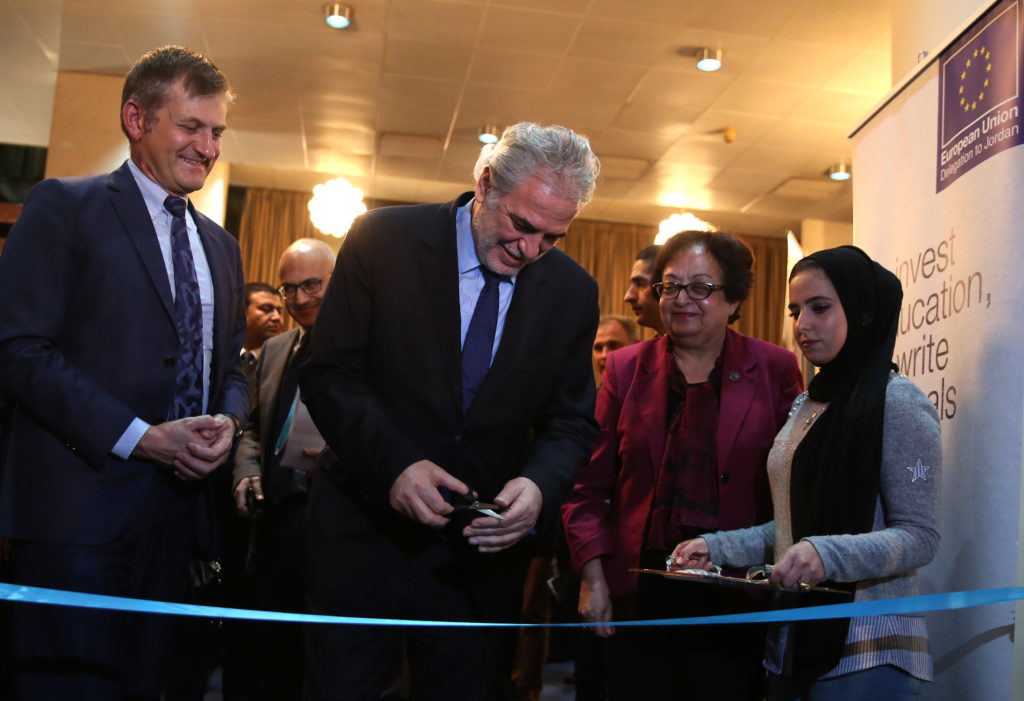 My Story is a student-led initiative by the EU funded programme EDU-SYRIA. The initiative aims to achieve a better understanding of young Jordanian and Syrian students, their backgrounds and their ambitions. This initiative includes a photo exhibition, a photo-book that has been written and designed by students, and a compilation of videos where the students share their stories.
Commissioner Christos Stylianides said: "The EU remains committed to supporting Jordan which hosts hundreds of thousands of refugees. European Union made education a priority because education is a window to a brighter future".
He also added: "My story represents real stories of hope, of Syrian youth who refused to give up their dreams because of the war, and real stories of Jordanian youth who refused to put their dreams on hold because of a lack of recourses. The book we hold in our hands is a book of hope and hope is what we need more especially now".
He also expressed his thanks to the German Jordanian University and the partner universities for believing in these young people and encourage them to learn, as these universities set an example for European universities to accept more refugee students in order to continue their dreams.
Prof. Dr. Manar Fayyad praised the European Union for their support for EDU-SYRIA project at the German Jordanian University and for granting the students the opportunity to pursue their higher education and help them to shape a more secure future for themselves.
During the launch, the Commissioner met with students, discussed with them their stories, hopes, and ambitions for the future.
It is worth mentioning that "My story" Photo exhibition was inaugurated by The Deputy Director General for neighbourhood policy and Enlargements Negotiations in the European Commission, Mr. Maciej Popowski at the German Jordanian University (GJU) on October 11th, 2018.