The Academic Committee of the Syrian / Jordanian Education Program EDU-SYRIA held an academic meeting with the students of the program at Zarqa University last Thursday, corresponding to 25/2/2021 through the ZOOM virtual communication platform. The meeting was divided in two separate sessions headed by the academic official in the program, Dr. Ala' Khalifeh, and the academic couch at Zarqa University, Mr. Ibrahim Al Hariri, and the presence of nearly one hundred students from the program at Zarqa University.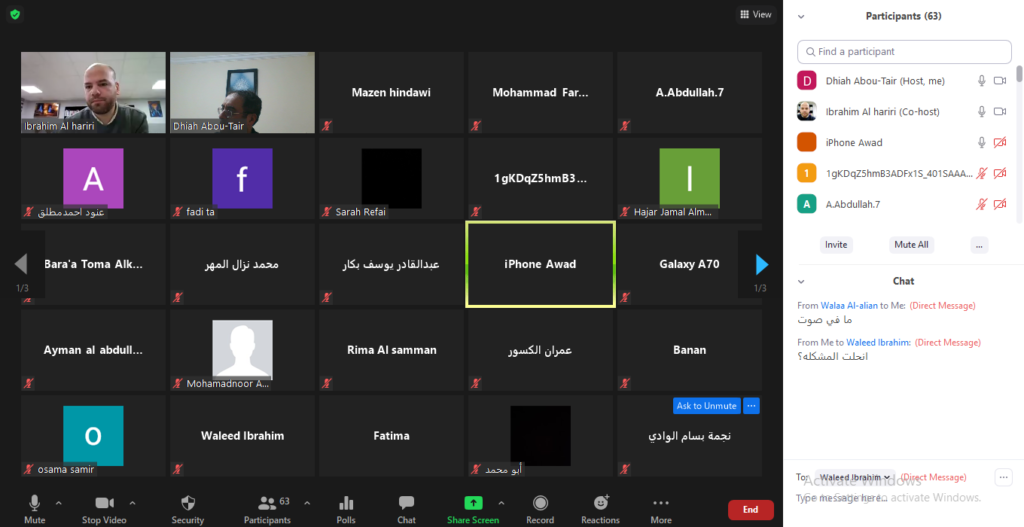 Dr. Khalifeh started the meeting by welcoming the program students who were present and introduced them to the Academic Committee. Then he drew attention to the necessity of adhering to the program's instructions, which guarantee a successful course for students within the permissible period and with the required quorum in each semester with an explanation of the reason for many of these instructions.
After that, Dr. Khalifeh touched on the warning system in place in the program, which takes into account the academic performance of students and guarantees the students' eligibility to continue and benefit from the program.
Later, the system of certificates of excellence that evaluates and assesses students' performance recently adopted by the program was discussed. This came within the framework of the program's management motivating students to achieve more excellence and distinction by granting them certificates of academic excellence signed by the program's management team.
For his part, the students' Supervisor at the university explained the electronic platform that the program established to communicate with its students by providing gates for them through which they can communicate directly with the program management by submitting an electronic request, which considers and answers each case individually.
Dr. Khalifeh stressed the need for close communication by the students with the program, which contributes to helping and guiding them to the right choice in the various matters they face during their education.
The electronic wallet approved by the program was also discussed in order to facilitate the delivery of the semester stipend allocations for students and to explain how to use it through the program's electronic platform.
Finally, the program's activities in the next phase were discussed, with an emphasis on the need to activate volunteer work in the program to become a basic requirement for students; this will contribute significantly to their progress during the university phase. The alumni network, which the European Union intends to launch soon, was also mentioned.
At the end of the meeting, the students' questions and suggestions were heard. They mainly focused on asking the program to offer specialized courses in addition to preparation courses to pass the English language level tests.
Dr. Khalifeh concluded the meeting with his and the management's wishes for students to achieve more excellence, success and prosperity, urging them to make a greater effort to cope with the challenges they face amidst the Corona crisis.